1
« on: January 11, 2021, 01:26:58 PM »
I benefited a lot from all the trip reports and comments so wanted to leave a brief trip report for our recent trip even though I recognize some of it is pandemic specific. I will have to figure our how to post some pictures a little later
We decided on the trip last minute about 3 weeks before when we realized we had 2 weeks off from work and got comfortable with the idea that we could travel reasonable safely. Again, this was a personal decision that some people may disagree with but for us Hawaii represented a safe option with pretesting and the trip solidified when we found plenty of award space.
We booked our flight there on United using turkish points for 7.5k each booked via LA reservation center EWR-HNL. No J space opened up until the day before but by that point I realized that business class was almost completely booked while the rest of the plane was completely empty and wasn't worth switching.
We did our covid pretesting with Vault which was was very convenient although a little stressful with the shipping. We had booked Abbot rapid appts at walgreens as a backup but results came back in time to cancel those tests.
We entered the airport and boarded geared up in N95s and facemasks.
Flight was completely empty and we had almost the entire back of the plane to ourselves with 3 rows in every direction clear. It was a daytime flight but we did lie down across 3 middle seats for a nap for a bit. We felt very comfortable given the distance and that everyone on flight had to have been tested within 72 hrs.
We then booked interisland flight HNL-OGG with southwest as I had some expiring travelbank so had to grab our bags, recheck and go though security which involved a lot of walking. In hindsight I should have left my wife with the carryons and just gone myself in and out. There were only 14 people total on the inter island flight so again we were very spread out.
Rental car prices for the week kept dropping leading up to our trip but we ended up with Hertz $172 for for the week. I was offered an upgrade to a convertible but didn't want to risk it with our bags on the road to Hana. For us it was the right move especially with the frequent stops and 3 minute rain showers periodically opening and closing the top would have been a pain.
We were arriving in the evening on new years eve Thurs night and heading out in the early AM for the Road to Hana so even though there were less expensive points options at the beach resorts we booked the Courtyard by the airport for convenience which worked out perfectly (50K Marriot points). I put in a Target Shipt order the day before to deliver to the hotel and spoke with the shopper while in the airport at HNL so our stuff was waiting at the hotel including a toaster oven, snacks and lunch items. The rest of our food was packed in our Polar cooler (from recent Dansdeals post) still frozen solid so I didn't even bother unpacking it overnight. Hotel was perfectly comfortable, modern with a small pool in back but the price they charge seems excessive. They also charged a $12 parking fee which seemed egregious considering the hotel is surrounded by parking lots including costco. I think this was the only fee we got charged at any of the hotels we were at on our trip.
Our general approach (and what our bodies enforced anyway) was to stay close to mainland time so going to bed very early and waking up early. This worked really well as many of the activities were early plus there wasn't much nightlife we were interested in these days.
The Road to Hana was amazing and certainly lived up to its reputation. We had most of the waterfalls in the morning completely to ourselves (it was also new years) although by the afternoon stops there were often 1 or 2 other cars there... Since the plan was to split the road up over 2 days with Shabbos in Hana we did not have to skip any stops or rush at all. In the morning I thought we were moving too quickly and we stopped to relax an picnic for awhile but as a result we did end up a little crunched with sunset approaching and decided to leave the black sand beach near Hana for Sunday to leave some time to arrive and get setup for Shabbos.
Since it had rained overnight and there were some showers intermittently the waterfalls were all really pumping which was nice although for the most part the pools were often unsafe for swimming because of strong currents.
We bought the Maui Revealed book but for the app we decided on shaka guide and really loved it. It gives turn by turn directions and very exact stops plus lots of info, stories, and hawaiian music along the way. We thoroughly enjoyed it and would highly recommend. We would occasionally reference the book as well but it was nice to keep our eyes on the view.
For Shabbos we decided to stay at the new Destination now Hyatt Hana Maui Resort (previously Travassa) since it seemed perfect for COVID distancing rather than a large resort. We booked 2 nights with Hyatt points and have to say it worked out perfectly. We were upgraded to Premier oceanfront bungalow which was spectacular (only explorist right now but reached out to hotel and requested this for our anniversary). The room was huge with a dining area, large mini fridge, couch/coffee table, large tub and shower, huge lanai with amazing ocean view. We setup our timers and toaster/warmer and settled in for incredibly tranquil day. The resort was not completely empty as it was still new years weekend but we had maximum one other person at the pool or jacuzzi when we were sitting there. The view from the infinity pool and jacuzzi is completely open to the ocean and the waves crashing on the volcanic rocks. The sound of the ocean was so great and the weather so comfortable that we slept with just the locked screen door on the porch so we could hear the natural white noise. I would highly recommend this hotel if you are looking for a really serene environment plus it really allowed us to maximize the road to Hana over 2 days.
Sunrise from the lanai at Hana Maui resort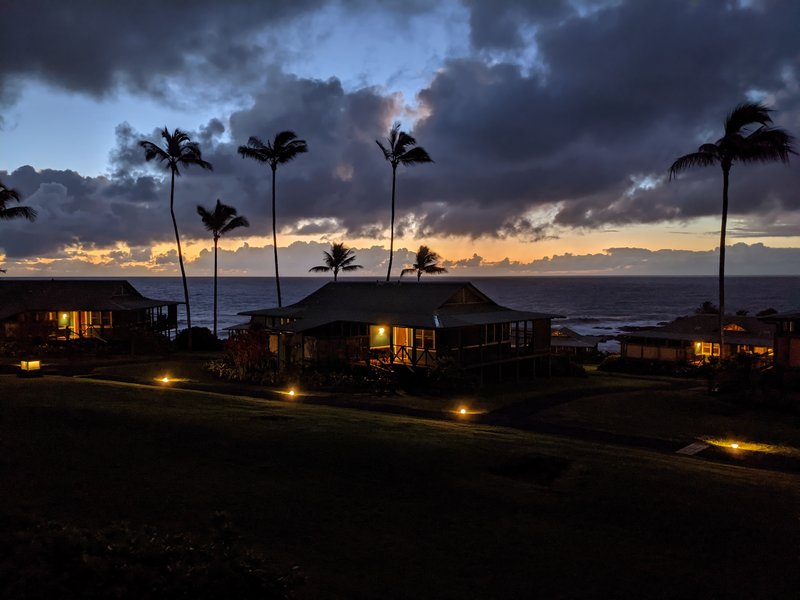 On Sunday, we were up early and decided to head to the black sand beach for sunrise before checkout. We opened the park with the security guard and had the beach pretty much to ourself with a beautiful sunrise.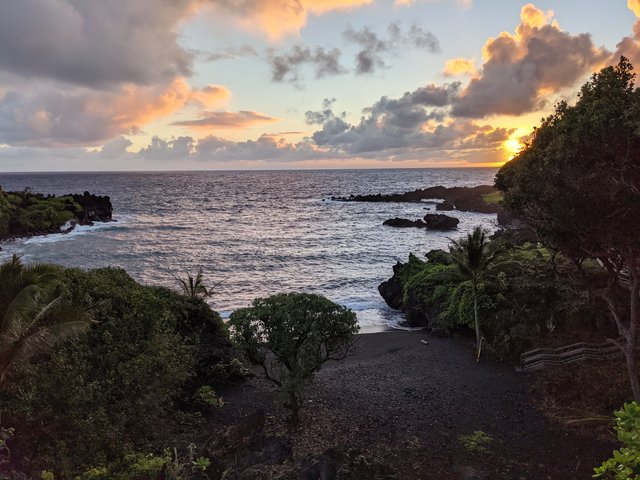 As expected the caves were completely closed but the surf would have been too rough anyway. Small blowhole was making tiny spurts. We then went back to the hotel, reloaded our food into the cooler with some ice and headed out for the return trip completing the loop. The venus pool was awesome with 1 local family there as well but the swimming was very refreshing.
Oheo pools were nice but I think our expectations were too high and of course the park would not let you get close to the water. We did the first half of the pilani trail to see the bamboo forest which was a nice climb and cool to see.
While we were getting tired we decided to do the alelele small hike to a waterfall and were really glad we did. It was really pretty plus we had the waterfall and pools to ourselves to enjoy and swim in. The waterfall was strong and you could feel the spray even 20 feet away.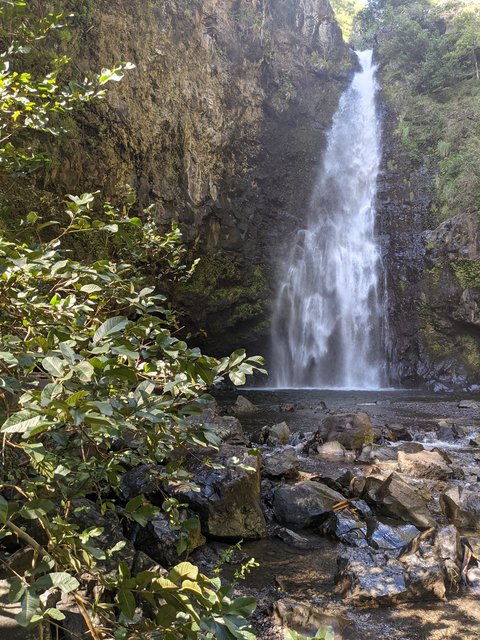 This was probably one of our favorite waterfalls even if we had to cross the stream hopping on rocks and ended up getting our shoe soaked.
The drive back although unpaved at times was not bad at all (perhaps because rod minimal traffic) and we were kept entertained by the Shaka guide periodic stories.
We arrived at the Andaz around 5 and checked in. We had booked a base room with 30K points (with 25% expected back with promotion) for nights by booking 7 and then shortening which was a breeze. We were upgraded to an ocean view room which I was happy with considering just explorist.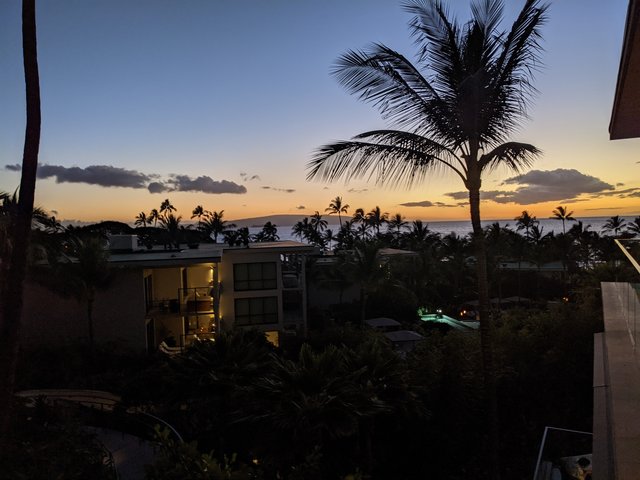 We went out to the pool deck which was almost completely empty and enjoyed the sunset and Luau music. After heating some food for dinner in the toaster we realized the fridge was tiny and so just loaded food into ziploc bags and filled the polar bear with some ice which served as our annex fridge for our stay.
No breakfast included since we were not globalist but there was no buffet anyway with COVID plus 2 out of 3 days we had plans to leave early anyway. Parking and resort fees were waived with ongoing promotions.
The next morning we drove to the harbor for our snorkeling trip with Sail Maui. We chose the company based on the reviews and the fact that they only do 1 stop at Molikini leaving more time there plus the boat had maximum 20 people and was very spread out. Plus they make a point of actually sailing when possible which makes for a very pleasant and tranquil trip. We had some breakfast on the boat of cut fruit and coffee and then enjoyed snorkeling for the first time at Molikini. They have a good mooring spot close to the edge of the crater where most of the action is. On the way back the whales were in action and saw numerous breaches, tail waving and a newborn calf learning to swim.
After the sail we drove to Lahaina to walk the town a bit and then head back to the hotel to relax a bit. Routinely when we would go to the pool there was often nobody else or 1 other person on the pool deck which I assume is not typical. We caught another beautiful sunset from our room room before heading to bed early again.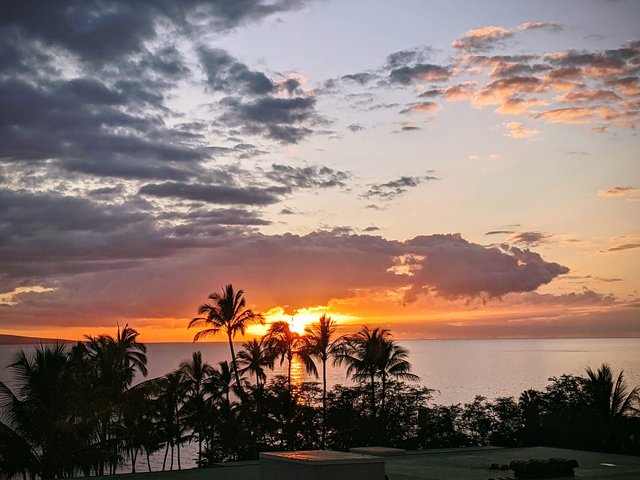 On Tuesday after waking up early and enjoying a nice breakfast in the room we had reserved the included outrigger boat ride with beach staff. It was a pleasant 30 minute ride but had no luck spotting any turtles despite a passing snorkeled saying he had spotted 10. We were determined so we borrowed some snorkeling gear and swam out to the coral by the hotel. Saw some nice fish but no turtle.
After changing we headed out to do the west maui loop again using the Shaka guide. We stopped in Kaanapali to do some shopping and see the resorts (as we had considered staying at the Sheraton with platinum status). All the resorts we passed were significantly more crowded including the Hyatt with most of the lounges feel. We were surprised but very happy with our decision of the Andaz. We saw the Ritz and Dragons teeth at Kapula. The blowhole was a bit crowded so we didn't hike all the way down but got a good view from up top. The one lane driving was a little nerve wracking but again there was minimal traffic so it went fine.
The olivine pools were really nice plus the sun was out strong so we couldn't resist jumping in for short swim. We skipped the needle on the way back as we were tired and wanted to get back knowing we were getting up early for sunrise the next day.
One more sunset from the room.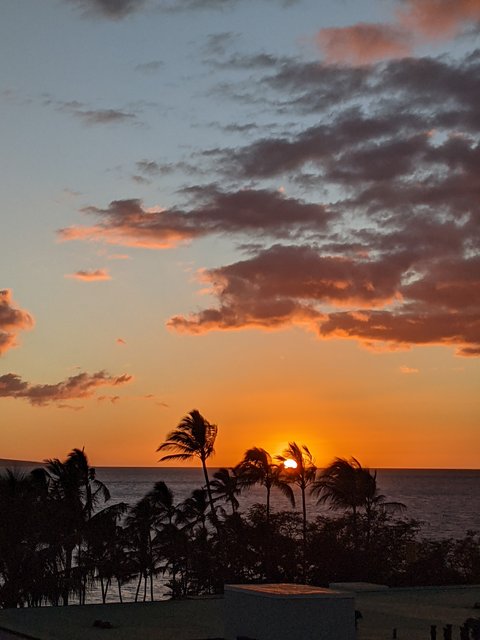 I chatted on the app asking for late check-out the next day because we were going to Haleakala and was offered 12PM. With a little prodding and pointing out that as explorist I was technically entitled to 2pm plus the hotel clearly wasn't at capacity they agreed to 2pm.
We got lots of opinions of when to leave for sunrise but ultimately decided we didn't want to get up and risk not getting a good spot or missing it. Getting the reservation online a week before took a few tries of being there at exactly 12pm EST until we got it as I suspect they were limiting the number substantially for COVID. We left at 315 AM again with Shaka as a guide and arrived at the summit parking lot around 530. It's an eerie drive in pitch black not realizing you are driving sometimes close to the edge of the cliff until you head down later.
We were a little early so hung in the car enjoying the view of the stars until about 6 am when the light starting to be visible. Official sunrise was at 658 AM so almost an hour before sunrise was when the action started. It was freezing and I really which I brought gloves but it was absolutely worth it for the views of the sun rising above the clouds.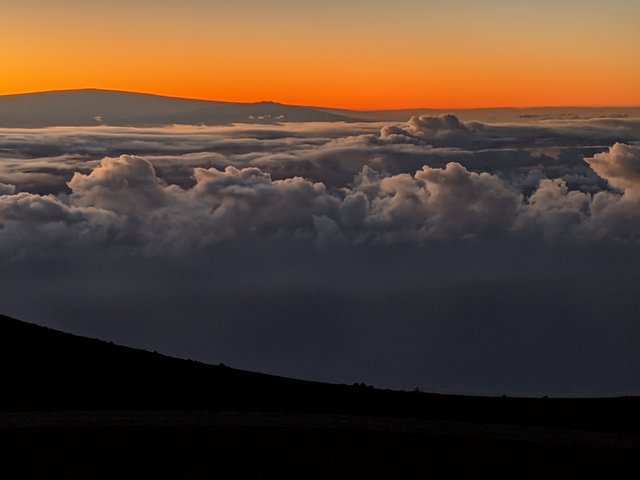 By actual sunrise most of the beauty was gone and it was anticlimactic although the park rangers sing a song. Definitely get there very early if you are going to go for sunrise.
We didn't have a lot of hiking in us at that point and just did a view mini hikes and lookouts on the way back and then visited Makawao before heading back to hotel for one last swim and checking out to move hotels for the last night.
The last night we were staying a few doors down at the Waldorf Astoria Grand Wailea since we had a free night from the Aspire card we had applied for right before COVID and otherwise were not going to be able to use this year otherwise. Plus we thought this was certainly a great use of the free night and didn't mind the hassle of packing and driving 5 minutes to see another hotel and experience. Our room was ready when we arrived l. I had checked in on the app and chosen our upgraded Napua tower ocean view room on the 8th floor which was very large compared to the Andaz. Sunset from our lanai.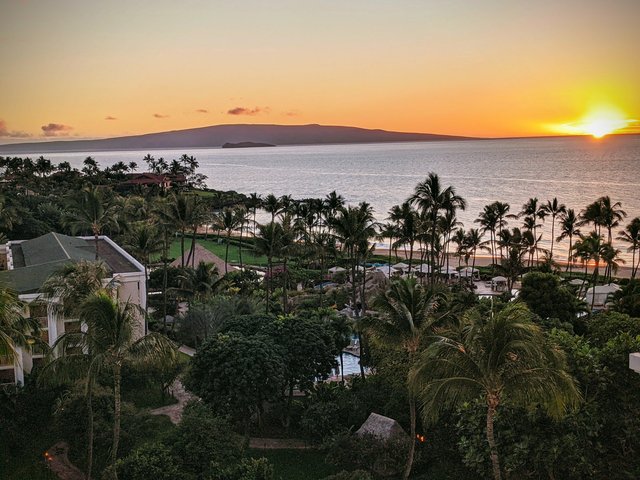 Overall, the entire resort is huge and very posh looking with gardens and sculptures throughout. Everything is very structured with lounges booked online for the day for COVID.
The resort wasn't quite as empty as the Andaz but still empty with perhaps 3 or 4 couples sitting by the adult pool where we sat. We then headed upstairs for beers and cocktail hour at the Napua club with some snacks as well.
Out last day we had no plans and just wanted to completely relax at the hotel before our 750 PM flight home. With some prodding we were given 2 PM late checkout and after breakfast at the Napua club we picked up a diamond breakfast to go at the cafe and headed out to our prebooked shady lounge chairs that we had reserved the night before with help from the staff. The pool attendant was very friendly and asked why we were here (anniversary) as well as talking about our trip. We thought nothing of it and were all settled in until a few minutes later she came back saying that we were being offered a complimentary cabana to celebrate. She recommended a cabana by the pool with unobstructed ocean views and set us up in our nice private space with a fridge and ceiling fan. Obviously there weren't many cabanas booked and this didn't cost them much but it absolutely made our day as we were not expecting it and it was a perfect capstone on the last day. Over the course of the day they brought over a basket of nuts and other amenities and then when it got hot they brought a plate of frozen fruit which really hit the spot. We at our last hot lunch, checked out, loaded the car and then headed back to our cabana to enjoy a few more hours before driving to the airport. On the way back we past pointed the airport to do one last walk in Paia before returning the car and checking bags.
Did a priority pass lounge at OGG which was an absolute joke with soft drinks, coffee, and small tiny bags of some snack mix.
Our flight home was on AA in business class so that we could sleep the red-eye. OGG-DFW then change terminals for DFW-LGA. No special meals allowed but we slept through the meals anyway.
Of course with this trip, double stay credit and the credit card nights I am well on my way to globalist with 20 nights and will probably add a few more nights for yeshiva break with kids to reach 30. Debating about going for 60 for the TSU and cat 7 night.