16
« on: November 03, 2013, 08:11:30 PM »
Part 1: Introduction, Miscellaneous Tips & Getting There
I always wanted to see New Zealand. I had originally thought I'd combine it with Australia, and when planning my Australia trip that's what I had in mind. After researching both countries it became apparent, however, that to combine them into one 3 week trip wouldn't do either country justice. It had to be two separate trips. And so it was.
This was to be our most ambitious trip to date. Travelling with a 5 year old and a 2 year old is never easy, and did I mention my wife was 6 months pregnant at the time? After consulting with my wife's doctor who assured us it was safe, we decided to go ahead.
- As far as kosher food is concerned, there isn't much outside of Auckland and Wellington, cities not really on the tourist map. Armed with the local kosher list and plenty of food from Israel, we made do, primarily eating protein out of a can or box. New Zealand has somewhat strict customs guidelines, but after reading through them carefully, you can see that chicken and meat is allowed as long as it's shelf stable and contains no bones. Thus, there is a large variety of kosher shelf meals produced by Meal Mart and Kiryas Joel that are permitted. I bought some Mountain Oven bags from Amazon to heat up the meals if I ever found myself without access to a microwave.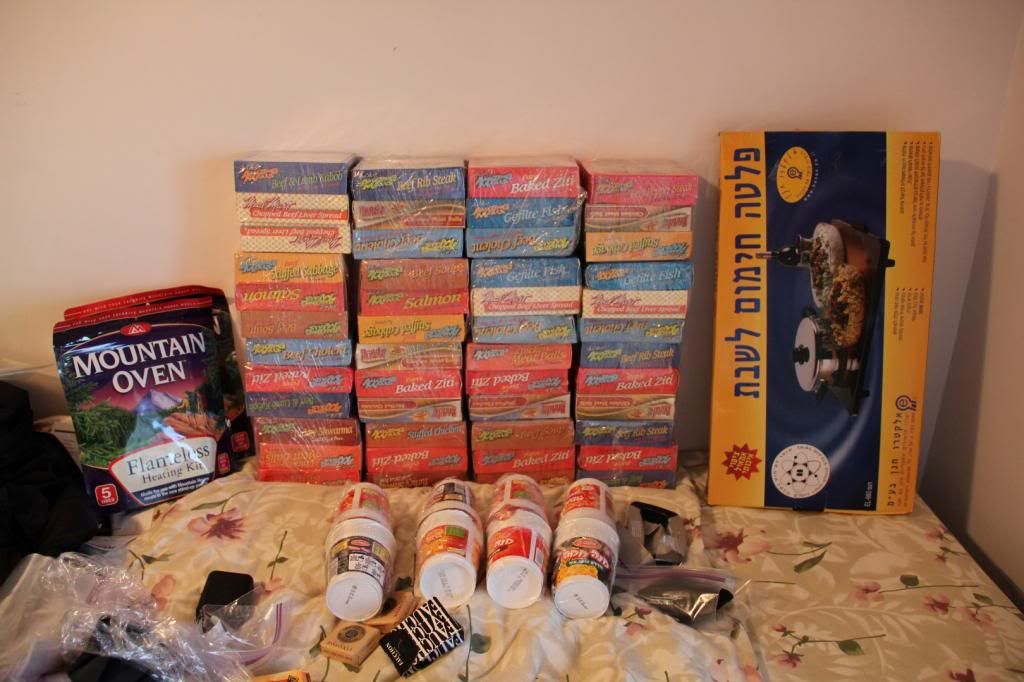 There is a kosher list which we loaded onto our phones, and we made frequent stops to the supermarkets. Many cereals are kosher including the Australia/NZ favorite, Nutri Grain. Additionally, most of the lox had a hashgachah on it, and some supermarkets even had fresh packaged salmon with a hashgachah that we would bring back to our room and cook up. We also bought fresh eggs which we cooked up in the morning. It was always an adventure going to the supermarket to see what could find.
- I knew we would be taking long flights and long drives, so I made sure to have 2 tablets on hand for the kids loaded up with various kid friendly videos. I also downloaded some talking books (Cat in the hat etc.) and Marvelous Midos Machine type stuff. Of equal importance was bringing tons of nosh and treats.
- To be honest, the proper way to "do" New Zealand is to do it the way the myriad of young Israelis we encountered do it. They basically come after finishing army service, buy a car, and basically drive & hike for 3 months. There is so much natural beauty, the way to properly experience it is by going on these multiday hikes, something obviously I couldn't do in my situation. Nevertheless, I think we got a nice taste of the country in the 18 days we were there.
- I would be remiss if I didn't bring up the dateline issue. Without going into specifics, there are some serious halachic questions as to when Shabbos is. Is it the local Saturday or Sunday? It would be wise for someone thinking of taking this trip to discuss the issues with a competent orthodox rav. For what it's worth, I basically kept 2 days of Shabbos. So in the 18 days we were there, only 12 were actual touring days. It was either that, or not to go at all. For a short overview of the issues, see here
http://www.star-k.org/kashrus/kk-trav-dateline.htm
- As far as our routing, we booked an AA All Partner award TLV-HKG-AKL on El Al & Cathay in Buisness for 45k miles, and then a United award CHC-SYD-ICN on Air New Zealand & Asiana, ICN-HND-LAX on Asiana & ANA, and finally EWR-TLV on United, all in Business Class for 127,500 (I think). Remember that I needed 4 seats, so it was kind of a miracle that I was able to get pretty much everything I had wanted.
TIP – In the beginning, Cathay had only 3 seats available HKG-AKL, so I voluntary downgraded myself for that leg hoping/assuming it would open up as we got closer. But even within 2 weeks of the flight, KVS showed no availability for the flight, even when searching Cathay's website. For some reason I got it in my head to call AA who told me they saw availability and put me in business. So it would seem that AA sees availability even when Cathay's website doesn't.
Getting to New Zealand from TLV is a real doozy, to be quite honest. Unlike on our trip to Australia, where we cut the trip by stopping in Abu Dhabi, our trip to AKL entailed a 9pm departure for an 11 hour flight to HKG, arriving at 2pm, then after a mere 1:30 layover, we took the 3:25pm flight from HKG to AKL, another 11 hour flight which got us in at 7:30am Friday morning. I figured we would be zonked when we finally arrived, so I planned a light day in Auckland with the idea of spending our 2 day Shabbos resting up for our adventure.
I don't remember the flights anymore as much time has elapsed, but I do remember my 2 year old, which I might mention is a very hard age to travel with, absolutely refusing to go to sleep on the second flight when they turned out the lights, and struggling with him not to make a racket while the other Business passengers were trying to get some shut eye. I couldn't help thinking, "Have I made a huge mistake by attempting this..."
To be continued at some point...